...productive on a hangover. I was feeling reaaal ropey on Saturday but I still made it to Kilburn car boot and picked up some serious starting points for our upcoming exhibition in Brighton. Even made it to Little Venice for a walk along the canal. I also checked out an exhibition at Milagros on Columbia Road by an amazing artist called Stephen Wright. He's my new fave. Anna and I are literally soooo obsessed with outsider artists and people who make folkey type art out of throwaway items and junk. It was one of those experiences where I didn't really want to leave because I didn't want it to be over. Last time that happened was the Peter Doig at the Tate Britain.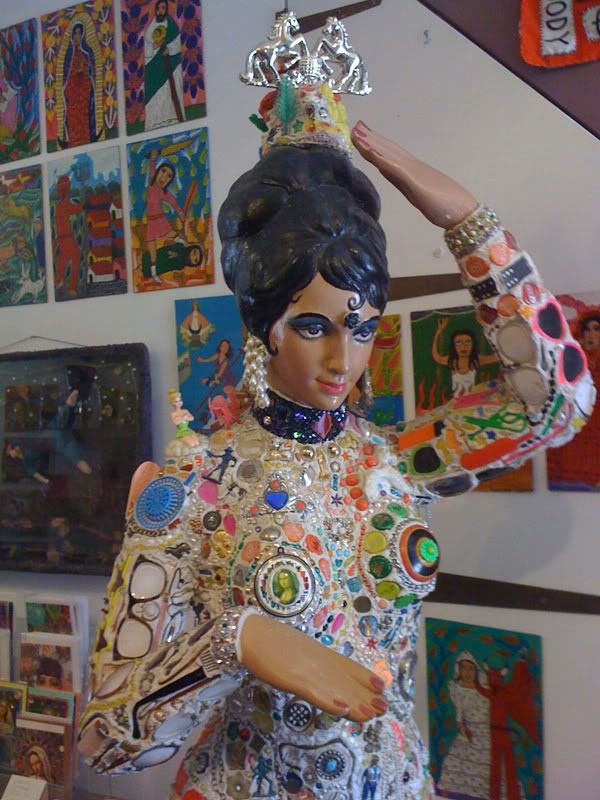 Today. Back to Columbia Road for Oliver's prawns and onto Brick Lane for more exhibition stuff hunting. Instead I bought clothes and a present for Anna to say well done for finishing her dissertation. It's top secret. Photos to be uploaded after I give it to her- She's going to wee herself. Escaping to the back streets near Brick Lane, Annie and I discovered Spitalfields City Farm; a colourful, wild, hippy-type farm with the coolest plate wall, a goat in a phone box and a hut with a very strange-shaped roof. How have I always missed this?!
Oh yeah and someone knocked on my door the other day and asked if they could take the rainbow sparkly pyramid I had left in my front garden. Gutted I couldn't find a use for it but space is getting tight these days! Spotted it on my way home from Columbia Road though- love it!