If you haven't been to a good exhibition in London recently, I seriously suggest you head down to the Victoria Miro Gallery on Wharf Street, N1 (Just off City Road) to see the Yayoi Kusama exhibition.

I have been a MASSIVE fan of Yayoi Kusama since her show at the Serpentine Gallery back in 2000. She has a condition which causes patterns to continue off the surface where they exist and engulf the surrounding space. Much of her work explores this hallucinogenic effect. Not only is the exhibiton worth a vist but the Victoria Miro Gallery is such a beautiful space, airy and light with a lovely outdoor area:




Alternatively go and see the Hew Locke show, How do you want me? at the Hales Gallery in the Tea building on the corner of Shoreditch High Street and Bethnal Green Road. Anna and I were also lucky enough to have our very own private view of the exhibition before the actual Private View took place. His work is very Political and heavily adorned with all sorts of symbolic objects. Many of which are very kitsch, gold, plastic and right up our street. It had a good write-up in Grafik Magazine this month too: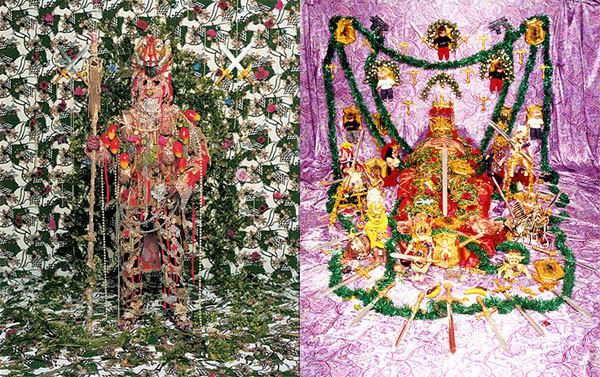 On our way home we had to do a bit of prop collecting in Clerkenwell and we bumped into a funny chap and his life size puppet entourage. It was for an advert apparently but I didn't quite catch which one. Prize for the first person to notice it on telly. Check out the magic hour light. My favourite as I am sure anyone who follows this blog has gathered by now!