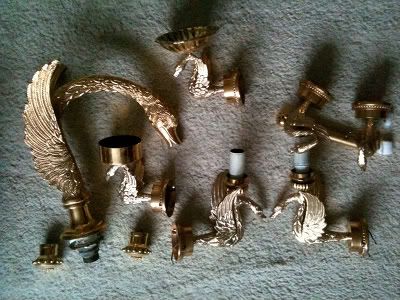 Right where to start. About 5 months ago lauren found these taps in a junk shop in Edmonton. I had seen them before and had been asked by my mum to look out for them as her friend had been searching for years for them. So while I was busy asking about mirrors that we needed for a shoot Lauren picked up this hefty bath pourer and obviously brought them. I was most jealous but imagine my joy when I found a full set at Wimbledon car boot sale last week. It's just missing the sink taps but I now am the proud owner of two light fittings a toilet roll holder toothbrush holder and soap dish and bath taps. To be honest I don't have a house or a bathroom of my own to put them in but soon come! In my dream house the bath tap will actually be my kitchen sink tap and the rest will be in my en suite bathroom.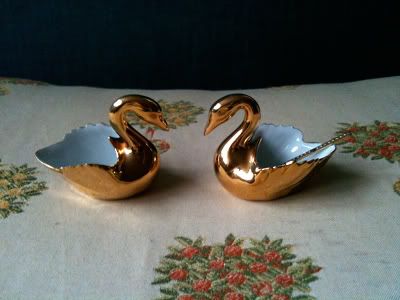 So anyway my mum gave the these for Christmas, I got such brilliant presents. They are for salt and pepper holders made by Limoges a french ceramics make with a gold luster. The other great prezzy I got was a beautiful crochet quilt my auntie has been making for me of years. I love it.




So back to the gold swans. I have developed a love for Jane Mansfield. Look at her house! the pink palace in LA. I think I will model my dream house on hers. Full towelling bathroom?!

(p.s.) having real blogger issues. Have had to remove some pics as they won't go to the right size and they words keep coming up funny. Hmmmm frustrating, sorry about that but hoping I have it sorted now.....